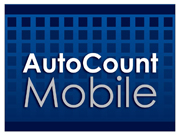 Instant access to information
In AutoCount Mobile, you can access to customer and supplier information e.g. contact number and address instantly. While away from office, you can access to up-to-date stock information which will ensure smooth running of your business without further delay.

Easy to refer
AutoCount Mobile provides good source of reference for your business. You can refer to customer aging reports stored in AutoCount Mobile wherever you travel. You can also access to contact number without browsing pages of telephone book. Hence, it save your time and cost to call back to office for information as it is in your hand.

Time Saving
In AutoCount Payroll, You are not required to do year-end or month-end closing over payroll data. They can create and edit payroll data unbounded by payroll period.